Horses, Llamas, and Chickens!
The Dog & Pony Ranch is a great place for you and your dogs to meet these types of animals. See below for photos of previous guests interactive with our livestock.
Q: Will my dogs be safely separated from the ranch's livestock?
A: WE LOVE ANIMALS SO THEIR SAFETY IS A TOP PRIORITY TO US!!! Our horses, llamas, and chickens are safely separated in a 7-acre pasture on the east side of the property with ~4' high cross-hatched "field fencing" that should keep most dogs out of the horse/llama area. Our fencing is more secure than most rural neighbors who fence livestock typically with 3-strand wire. Our chickens live in a predator-proof coop and run (fencing goes underground) so we are confident your dogs won't get to them if you don't open any of the chicken doors.
If you have very small or very determined high-prey drive dogs, we recommend that you leash them when walking near ours or our neighbors livestock pastures since they might find a way to go over or under the fence. People allowing their dogs to harrass our animals (or people going into the horse/llamas/chicken pens putting both themselves and our animals at risk) will be asked to leave immediately per our rental agreement (our livestock areas are under constant video surveillance).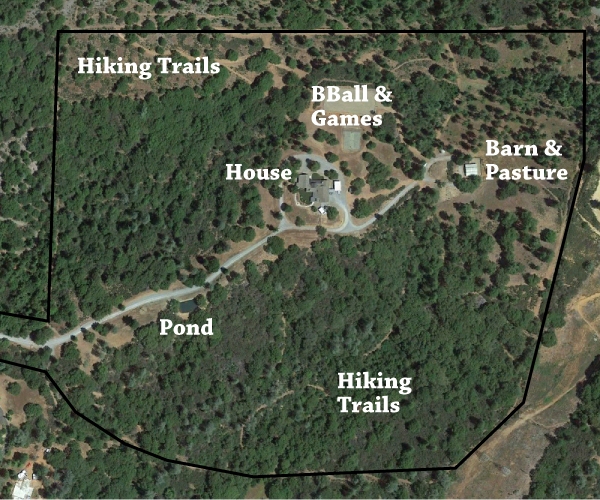 You are welcome to pet our horses and llamas over the fence if they approach you. We (or our pet sitter when we're not onsite) feed the animals in the late afternoon each day (they have auto-feeders for other meals) so this is a good time to visit the barn if you want to meet our livestock and maybe give them a treat. Note that the livestock care giver does NOT go near the guest house when guests are in residence. Guests are welcome to enjoy our chickens' eggs which we'll stock in the kitchen refridgerator when the girls start laying around Fall 2017 (they just hatched April 2017 so are still maturing).
When we are in residence, we can offer more interaction with our animals such as a "llama walk" for a unique photo opportunity. We don't have a string of rental horses, but are considering offering some horseback riding for guests during hosted visits when we are onsite. The insurance is very expensive so let us know if this is something you really want, otherwise, we can recommend nearby horseback riding options.