Map to the Dog & Pony Ranch (please do NOT rely on GPS after leaving Jackson)
GPS is dependable in cities, but some GPS systems are unreliable in our rural area (send you on windy "shortcuts", or to neighbors who might complain about our business, or you may lose cell service in the rural hills). Please refer to the info below once you get to Jackson to most easily arrive at 20063 East Clinton Rd, Jackson, CA. Guests who don't follow these directions often get lost based on even recent years of experience.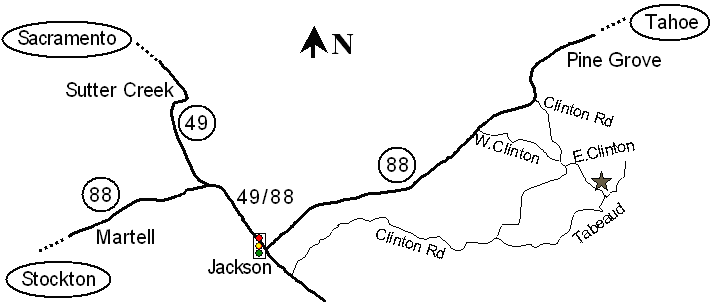 From Jackson on Hwy 49/88, turn left at the stop light to head east on Hwy 88 towards Kirkwood for about 6.2 miles. You should pass the Jackson Rancheria entrance. DO NOT TRUST GPS AFTER THIS POINT!
Go past West Clinton Rd and turn right on Irishtown / Clinton Rd exit (just past the 2000 ft elevation sign) and immediately right again for Clinton. Continue on Clinton Rd for ~1 mile, taking the left bend on Clinton Rd and then fork left onto East Clinton Rd about 100 yds later (look for the mailboxes as shown in the left photo below).
Follow East Clinton Rd ~1 mile then turn left on the 3rd driveway as you come down the hill (look for our logo sign and flag shown in the right photo below). Our driveway is well-marked with a "Harrell's Dog & Pony Ranch 20063" rock sign on one side AND a 20063 reflector marker on the other side. We're only 2 miles off Hwy 88 so if you reach Tabeaud Road, you've missed a turn and gone too far.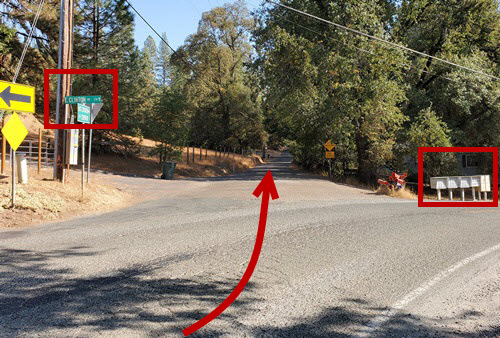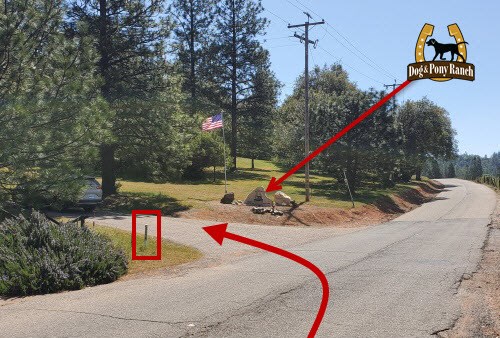 Follow the driveway for ~0.4 mile through the driveway gate, then up to the house. When you get to the gate, enter your guest access combo (sent in your arrival email) on the keypad which will also be used when exiting (gate will close automatically ~20 seconds after it opens). When you near the house at the top of the hill, bear left at the fork.


Park in front of the house on the west/guest side as shown (NOT near the garage/carport which are the owner's). Access guest house through wrought iron gate near the hot tub. The same guest combo should be used to enter the house via the keypad on the guest master bedroom patio door. The combo also opens the laundry room and game room.
Now you have arrived at 20063 East Clinton Rd, Jackson, CA. Have a wonderful visit!